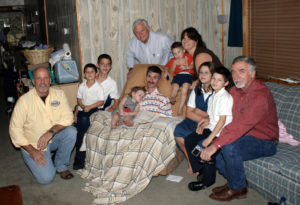 Building a Difference Volume 2: The Goodall Family Story shares the experiences of Kenny Goodall and his family's struggles after he was diagnosed with ALS (Lou Gehrig's disease). His wife Karen was having a very difficult time taking care of Kenny and their six children in a small three-bedroom home. Builders Care partnered with ICI Homes to expand the size of their home so Kenny could spend his remaining days in peace with his family knowing they would be taken care of after he was gone.
The story didn't end there. Almost immediately, the family was stricken with another tragedy. Kollin, the
oldest of the Goodall children, had been feeling unusually fatigued throughout the duration of the project. No longer able to ignore his curious condition, Karen took him to the doctor for tests. "The news wasn't good," explains Exec. Producer/Director Mick Richards. "Only three days after completion of their new home, Kollin was diagnosed with leukemia. At the family's request, we continued to document their story as it continued to unfold."
Shortly thereafter, ALS had taken its course, and Kenny passed away peacefully surrounded by friends and family. "The funeral was emotional for everyone there, but we all knew Kenny had gone home to be with the Lord," says David Beecher, Associate Pastor of Mill Creek Baptist Church and longtime friend of Kenny. Kollin continued to struggle with his leukemia and eventually needed a bone marrow transplant. His younger sister Kaley was a perfect match, and a transplant procedure was performed. Initially, doctors held high hopes for a remission — but sadly, it wasn't to be.
"Karen received a call from the hospital and couldn't believe what she heard," says family friend Billy Willett. "She was told that Kollin's leukemia had become terminal, and there was nothing more that could be done. As soon as she hung up the phone she began crying on my shoulder saying, 'I can't believe this is happening. I just can't believe this is happening.' "
Mick Richards spent most of his time with the family during the last few months of Kollin's life. "Documenting on camera Kollin's final days was one of the hardest things I have ever been asked to do," Richards explains. "Not many people understood why I agreed to do it, and some didn't even approve. But Kollin had something he wanted to say to the world, and I made him a promise that I would help him say it. Kenny also wanted his story told, and I made him the same promise."
Richards adds that the result was "the most beautiful story Building a Difference has ever had the privelege to tell. Underneath the tragedy of suffering, there's a hidden beauty waiting to be discovered if we allow God to show it to us. And that's what I hope people will discover in this story."