Registration deadline has been extended by Go To Nations to Friday, June 20th for this very special once in a lifetime event.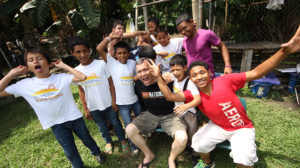 Go to Nations, a missionary sending organization, & GloDev, its relief and development arm, are extending their invitation and registration deadline to June 20th for a special Building a Difference short-term missions trip to Honduras! You don't want to miss out on this special week-long event in San Pedro Sula, Honduras, July 29th to Aug 5th …which will be jam-packed with life-changing experiences.  San Pedro Sula is among some of the poorest cities of the world.  According to the World Bank, 60% of Hondurans live on less than $2 a day – over half its population.
WHAT TO EXPECT! For the entire week of July 29th to Aug 5th, join the missionary and community transformation efforts of Go To Nations and GloDev and….
Get a firsthand education in the Honduran culture
Travel off the grid, escape your comfort zones.  You will not only witness how families and children live their daily lives in systemic poverty…you will have opportunities for ministry, prayer and encouragement…as God uses you totouch their hearts and their lives.
Visit both locations of New Destiny schools which were established to give quality education for children in the poorest communities
You will also visit House of Mercy orphanage for a chance to spend time with and encourage Honduran orphans
There you will visit GloDev's micro farm and get an overview of aquaponics and sustainable development
And assist with the first major harvest of fish and vegetables at the orphanage…which will mark the beginning of the end of hunger for the House of Mercy children
In addition, you will also be a part of one of the biggest sustainable development projects in Honduras…GloDev has plans for a 28,000 gallon aquaponics microfarm on location at New Destiny school that will feed 300 children a day. There you will participate in breaking ground on the first of 2 phases, which will begin a 3-month construction project.
And you will be participating in the worldwide TV Series Building a Difference for the upcoming Season 4 "Beyond Your Borders"… featuring powerful stories of how Go To Nations and Glo Dev are changing lives around the world.
Space is limited. Registration deadline has been extended to Friday, June 20th for this very special once in a lifetime event.
See our LATEST HONDURAS FaceBook videos HERE!