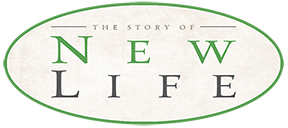 Episode Themes
Episode Titles & Themes
Episode 2
New Life Projects
Episode 3
New Life USA Begins
Episode 4
New Life USA Projects
Episode 5
Community & Volunteers
Episode 6
Women Enters New Life
Episode 7
Creativity Comes to Life
Episode 8
What is this Terrible Process?
Episode 9
The Physical Process Hurts
Episode 10
Psychological Process Pain
Episode 11
Spiritual Process Begins
Episode 12
The Social Process Experiment
Episode 13
Community Trust Test
Episode 14
This is Where We Quit
Episode 15
Spiritual Process – Part 2
Episode 16
The Change Experiment
Bonus Clips & Extras
Watch Bonus Features & Behind-the-Scenes!
After a night of raining at New Life in Missouri, everything was flooded.
Bradley Clark shares his testimony to the guys at New Life in Missouri.
Uncle Dave and crew are frustrated at how long everything seems to be taking.